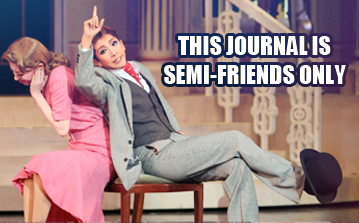 Entries of more personal thoughts and assortments of my Takarazuka ramblings and such are locked. Please introduce yourself here if you would like to be added back~


i've split my workout into three days, with the numbers being my 1 RM:

day 1: arms
- skullcrushers 45 lbs
- barbell curl 53 lbs
- close grip bench press 65 lbs
- dumbbell incline bench curl 26 lbs
- tricep kickback 22 lbs
- concentration curls 26 lbs
- tricep push down v bar 93 lbs
- cable curls 80 lbs

i used to have forearm work outs in my arms day, but i found it caused actually some distracting pain in my left arm. i was afraid of hurting myself during my other work outs (curls especially) so i've cut them out for now. i need to find a way to introduce them again and get strong muscles so it doesn't hurt as much

day 2: chest and back
- barbell row 84 lbs
- bench press 86 lbs
- deadlift 139 lbs
- dumbbell fly 21 lbs
- chin up bodyweight exercise so no weight
- dumbbell bent arm pullover 30 lbs
- wide grip lat pulldown 78 lbs
- dumbbell hammer grip incline bench press 26 lbs

these numbers aren't impressive very much. i need to incorporate more inclined benching. i can't do a chin up, but i've been working on negatives and i can feel it improving already

day 3: shoulders and legs
- dumbbell arnold press 22 lbs
- barbell squat 88 lbs
- over head press 69 lbs
- seated leg curl 82 lbs
- barbell shrug 80 lbs
- seated calf raise 68 lbs
- dumb bell front raise 19 lbs
- dumb bell lunges 18 lbs

this day fucking sucks the most for me. over head press is so hard and tires me out quickly. squatting makes me feel like garbage. i used to do lateral raises but it was way to difficult to actually lift a decent amount of weight and keep my form. i don't know, this day is the hardest for me. it really sucks. my shoulders are weak as hell and even doing lunges after squatting is murder. i think i might cut out the lunges and just go hard on the squatting. i used to do the leg extension machine, but one of the personal trainers at the gym said it was junk and it caused HUGE DOMS for me so i stopped.

i try to go to the gym five times a week. arms, chest, arms, back, arms. i do arms three days a week. maybe my problem is that i need to focus more on where i'm weaker... ie shoulders lol

my routine is always changing though. if i'm not satisfied, i change things up.

my gym keeps pushing the personal trainer, i mean of course they do, but there's a good deal for 3 sessions and i'd like to take advantage of it. i need to make sure my form is good. i need to get the best work outs for getting big, strong muscles. i know that lateral raises are fantastic for your delts, but i really really struggle with them and it's demotivating.

also running is fucking garbage and i hate it. i need to run more so im thinking of running to my gym. it's about 5 km / 3 miles. google maps tells me that's an hour each way, but if i run i'm sure i can cut that down to at least a half hour each way. that means i'll have to devote 2 hours a day to the gym, so i can't do it on days that i work night shifts. but my city is built from the sea level to up a mountain, so there's a ton of hills. it's going to be fucking hard.

but oh well what's the point in life if it's easy
I've been lifting regularly for about 2 months now. my main goal is to gain upper body strength, because i require it so much in the military. i'm trying to balance out my body as a woman, since women are more bottom heavy, i really push myself to get a strong upper body.


ISNT THAT SCARY

i think its scary
you know, i was pretty active on my LJ back when i was a boot. ive been in 4 years now and times sure have changed. i'm doing my leadership course this summer, and it's frightening. once completed you can be given the appointment of master corporal, which is equivalent of a sergeant in the us military
is anyone still active here? whats up in da hood
- I'M TAKING A MEDICAL TERMINOLOGY COURSE TWICE A WEEK UNTIL DECEMBER MAYBE IF I'M LUCKY I CAN BE A CLERK IN A HOSPITAL OR TAKE THE STERILIZATION COURSE AND DO OTHER MEDICAL STUFF IN HOSPITALS CUZ THEY PAY GOOD
- I BOUGHT A CAR ->
http://slowrewind.tumblr.com/post/31308130953/
I LOVE MY CAR IT'S AMAZING I HAVE A CAR, ASK ME ANYTHING ABOUT HER
- I BOUGHT REON AND TSUKIGUMI'S ROMEO ET JULIETTE
- I UPGRADE TO THE IPHONE 4S THE SECOND LAST WEEK OF AUGUST AND NOW THE IPHONE 5 HAS BEEN ANNOUNCED, WELL AIN'T THAT SWELL. ALSO MY IPOD TOUCH IS BRICKED BECAUSE OF IOS 6 AND THIS IS A BIG ISSUE TO ME BECAUSE IT WAS EXPENSIVE
- I BOUGHT MYSELF A CAR
- ARMY RESERVE HAS LESS BUDGET DUE TO THE FEDERAL CUTS SO I NEED TO GET A SECOND JOB


took long enough

so sick of doing infantry work

now i have one day to wash my filthy combats i was sitting in trenches with and pack them up and get my ass to idaho

wish me luck, my luvly f-list
as of march 23rd, i am now basic qualified


I approve of this cast list.

-katface
thank you for not making Magee the Nurse.